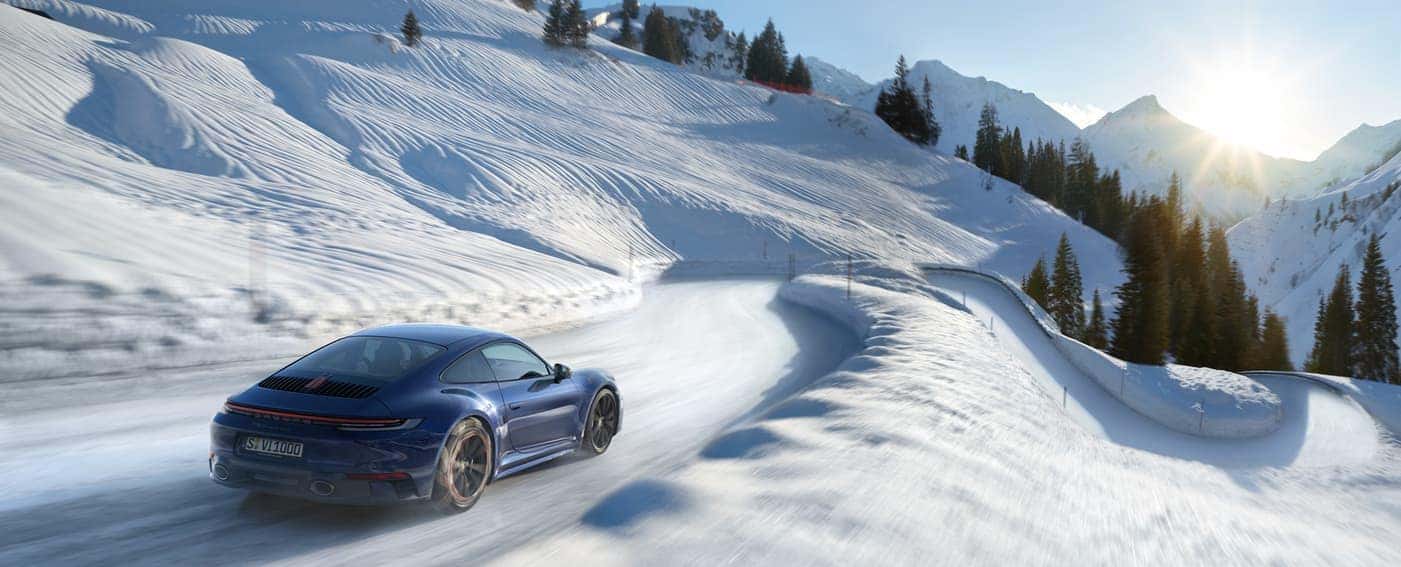 Winter can be hard to deal with, but only if you're not prepared. Just like you know how to layer up and get the right cold-weather gear to stay warm, you can prepare your car for cold-weather challenges, too. The team at Fred Lavery Porsche Company put together this guide to building your winter emergency car kit, plus key maintenance check-ups to optimize your car for the cold. Fortunately, your local maintenance experts at Fred Lavery Porsche Company can help get your Porsche Cayenne or Panamera all set for winter!
---
Read on for a guide to the best car emergency kit from Fred Lavery Porsche Company, and don't hesitate to give us a call for maintenance tips and service specials for Farmington Hills drivers!
What to Pack in a Winter Car Safety Kit
Even with your car fully prepared for winter and checked by experts, unexpected circumstances could still cause you to get stranded away from home in Rochester Hills. In that event, you should have your car packed with tools to get your car running again, as well as supplies to help you deal with the cold in case you need to walk or wait for help to arrive.
When it comes to an emergency tool kit for a car, keeping the following items in your car for winter will help in case you need to free your Porsche from snow and ice, fix a dead battery, or alert other drivers to an emergency:
Tire chains
Ice scraper or snow brush
Jumper cables
Road flares
You'll also need to make sure you and your family are safe and warm in the event of a break-down or emergency away from home. For the best car emergency kit, pack the following items in your cargo area:
Flashlight
Batteries
Blanket
Snacks
Water
Gloves
Boots
First-aid kit
Maintenance Checks to Make Before Winter
It's important to check car fluids and other systems before the cold hits, so that you have time to make repairs if necessary. Your local service experts at Fred Lavery Porsche Company can make the following maintenance checks:
Check key car fluids — Check the following fluids before winter:

Windshield wiper fluid — One way to optimize your car for winter is to replace your windshield wiper fluid with a winter blend solution, which will have a higher proportion of alcohol to prevent the fluid reservoir from freezing.
Coolant — Coolant helps your car's radiator maintain engine temperatures. The coolant should maintain its color, and not look rusty or have detritus floating in it. You can add coolant to the reservoir to improve coolant quality, but it's best to take the car in for a system flush if the issue is anything beyond slightly dirty coolant.

Keep a full fuel tank — Don't let the fuel tank fall below half a tank on your winter trips to Bloomfield Hills. Keeping it full helps prevent the fuel lines from freezing and allows you to keep the car running for warmth when needed.
Examine the battery — Most modern new cars have low-maintenance batteries, but should generally be replaced around after about three years of use. If your battery is close to three years old, have it checked out to make sure it will get you through the winter. Or have it replaced just to be safe!
Check the tires — Make sure the chains fit and check tire pressure during cold weather. Don't wait too late, because tire shops and service centers will be busiest just before and during winter storms!
Learn More About Safety on Your Birmingham Winter Drives
If you have more questions about preparing your Porsche with the best possible winter emergency car kit, contact the Fred Lavery Porsche Company Service Center. Our team is happy to provide car-care tips and tricks so you can stay and running all winter!
Want to learn more? Find out how to sanitize your Porsche today.
More from Fred Lavery Porsche Company
The Porsche lineup is made up of vehicles made not just for the road, but for the track as well. What do you know about the Porsche Panamera 0-60 times in Farmington Hills? You'll learn that this legendary vehicle is able to get you to 60 pretty darn quick, perfect if you want to beat any…

The 2022 Porsche Panamera is a vehicle that offers an incredible driving experience to anyone bold enough to command it. How much horsepower does a Porsche Panamera have? The base Porsche Panamera horsepower is 325 hp, but the Porsche Panamera engine specs go much deeper than that. We're going to go into detail on the…

Have you ever gotten to 186 mph in your car? Would you like to? Farmington Hills drivers who want the maximum amount of speed possible should opt for the 2022 Porsche Cayenne Turbo GT, a stunning addition to the Porsche Cayenne line that provides you with an incredible 186 mph top track speed as well as…